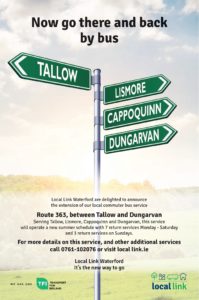 Additional services have been added to the current Tallow to Dungarvan Service. This service will now run 7 days per week Monday to Sunday.
Three additional services have been added during the week along with 3 return services on Sundays, the additional services will run from Monday 3rd of July to Sunday 1st October 2017 inclusive, see timetable
Fares will continue to be charged at:
Adults €6.00 Return €3.00 Single.
Students and Children €3.00 Return €1.50 Single.
Children under 3 and holders of the free travel pass, travel free of charge (Travel pass must be shown to the driver).
Please share with other this may be of interest to.
For further information on this or any of our services please send us a message or contact the office Tel: 00761 102076
#getonthebus